Newsletter six:
Achieving Inclusive Education in Australia
This year has been filled with great heartache and upheaval and many parts of our nation have had periods of 'hibernation'. We are pleased to say though that our inclusive education team has been as busy as ever! Over the past 3 months the FFIE team at CRU has been busy creating and delivering on-line interactive workshops and we have several more on their way!
Term 4 topics include:
With COVID community transmission mostly staying at bay we have decided to start back our face to face workshops in term 4 – subject to the most current health advice.   These workshops are planned for:
There has also been much happening in the inclusive education and disability space more broadly over the past few months too. In our work, CRU provides regular reminders to families to try to keep abreast of latest research, the evidence behind inclusive education, and also to develop some basic familiarity with relevant systems issues. This knowledge enables us to be well-equipped and effective advocates.
As families have many pressures and demands placed upon them (especially in 2020!) this newsletter attempts to make life a little easier for you by providing a summary overview of some key events, happenings and projects that directly relate to inclusive education. We hope this knowledge strengthens you to keep pursuing a quality inclusive education for your much loved family member.
---
Driving Change: A Roadmap for achieving inclusive education in Australia
---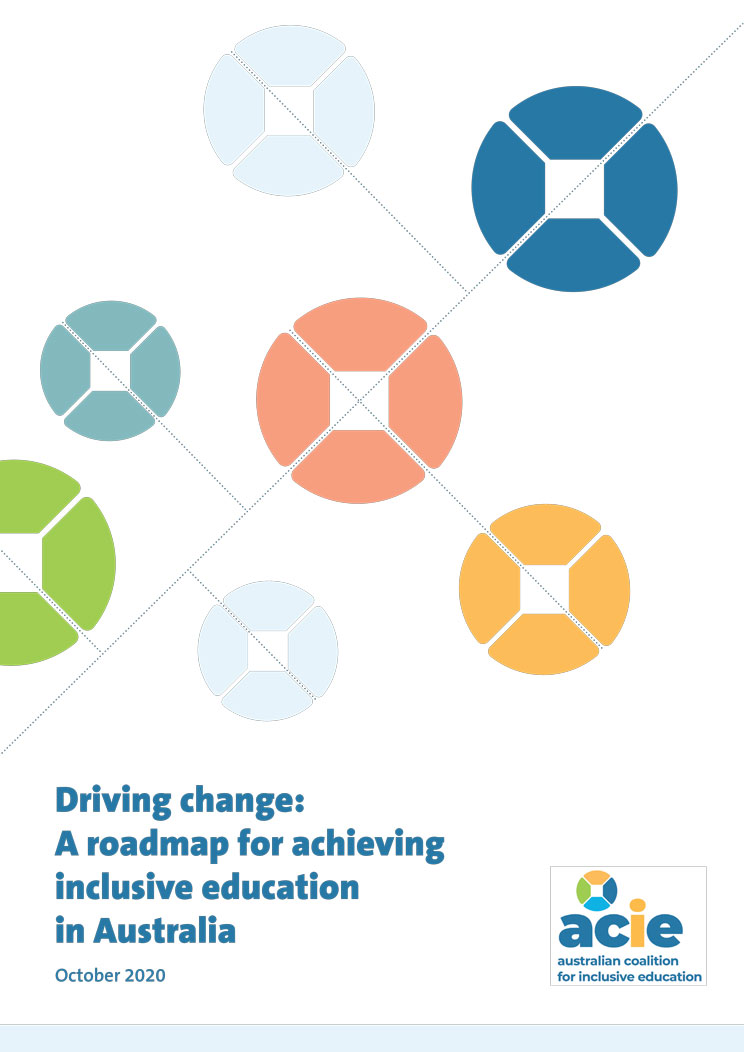 In July this year ACIE (The Australian Coalition for Inclusive Education) a national alliance of organisations (of which CRU is a member) developed a roadmap for achieving inclusive education which CRU has endorsed.  Click here to read the roadmap.
The Roadmap has two key sections:
The outcomes that need to occur, stepped out over the next 10 years
The key levers for change needed to realise these outcomes.
Our Roadmap is underpinned by six key pillars to help realise inclusive education in Australia and prevent the violence, abuse, neglect and exploitation of students with disability.

These pillars are drawn from the evidence base and embed the rights of students as set out in the United Nations (UN) Convention of the Rights of Persons with Disabilities (CRPD).

ACIE
Members of the Australian Coalition for Inclusive Education (ACIE)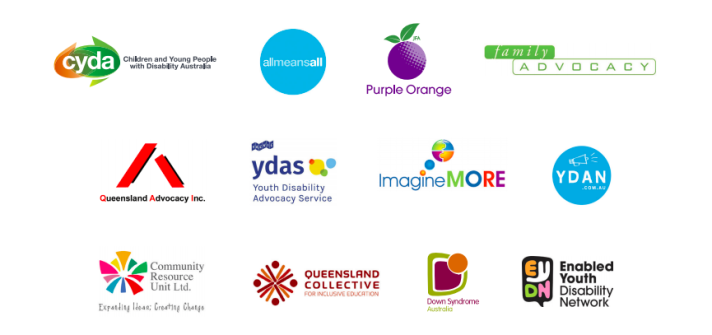 ---
Disability Royal Commission
---
You may remember that CRU was represented at the first hearings of the Disability Royal Commission in Townsville late last year which focused on education. Since that time, education has continued to be a key focus for the Commission.
Education Issues Paper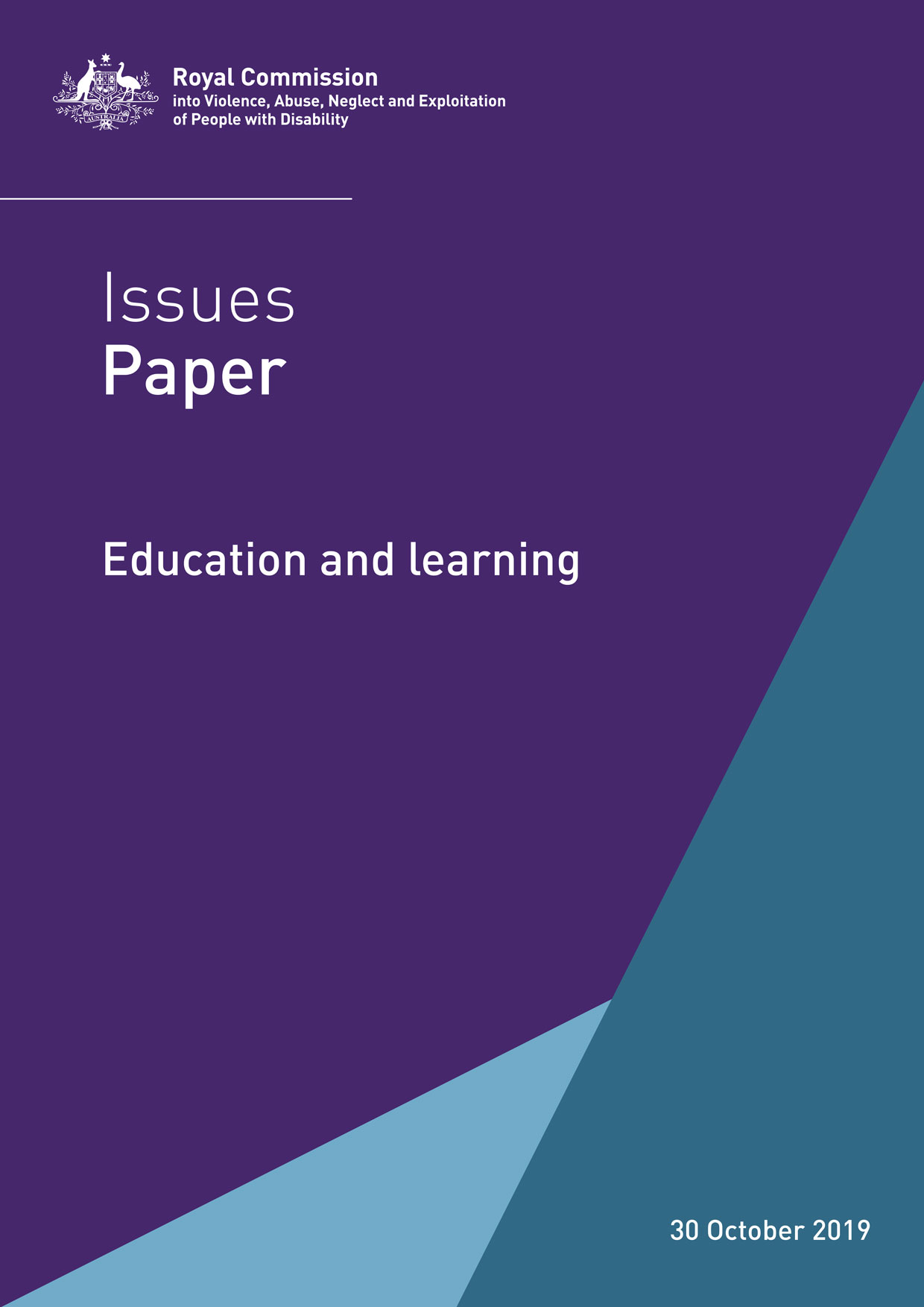 The Education Issues Paper outlined The Disability Royal Commission's preliminary understanding of some of the key issues and barriers experienced by people with disability in realising their right to education and explored the Royal Commission's Terms of Reference in the context of education and learning.
Thirteen questions were asked within the paper and responses were invited from the public.
Overview of Responses
The Overview of Responses document was published in July this year.  It includes a range of views.
This summary document is not an authoritative statement of the contents of the responses. Responses received to the issues papers will be considered in the course of the work of the Disability Royal Commission.
An Interim Report, due in late October this year, will provide more detailed discussion of the information received so far about education for people with disability and their experiences of violence, abuse, neglect and exploitation.
Research Report
A recent report commissioned by the Disability Royal Commission may also be of interest as it focuses on the transformation that is needed to realise the human rights of people with disability.
This report, Convention on the Rights of Persons with Disabilities: Shining a light on Social Transformation (click to read) was commissioned to describe the international human rights context in which the Royal Commission operates.
The report makes some important statements in relation to the right of students with disability to inclusive education under Article 24.  It is also available in Easy English.
Second hearing in to Education
In October the second Disability Royal Commission Public Hearing with an education focus will be held in Brisbane (click here to learn more about this hearing).
Please note that submissions closed in 2022.
CRU and CYDA (Children and Young People with disability Australia) held an February 2020 that discussed the Disability Royal Commission (DRC), its interest in education of children with disability and how people can share their stories with the Royal Commission.  The full presentation can be watched via this private YouTube playlist.
Below is a video from the event, with Maeve from CYDA discussing ways of making a submission to the Disability Royal Commission:
---
QUT Education – The Centre for Inclusive Education
---
QUT established a research centre The Centre for Inclusive Education (C4IE) in recent years.
The purpose of the Centre is to develop and nurture a critical mass of talented researchers who share a common passion for reducing exclusion and increasing inclusion to provide all children and young people with equitable opportunities to learn and develop as independent and valued human beings.

This Inclusive Education 'hub' has been conducting valuable research and producing many world-leading resources that provide excellent information and guidance for educators, practitioners, individuals with disability and those who support them.
We would like to highlight and share here a recent practice guide and a blog post that we thought would be of particular interest to those who connect with the Families for Inclusive Education program here at CRU:
Consulting students with disability: A practice guide for educators and other professionals
By Haley Tancredi (click here to read the practice guide)
This is a guide for educators and other professionals working in schools. However, it is also an excellent document for parents and carers to read and to have on hand too as it provides insight into what an accessible consultation process with students with disability should entail.
Why are special schools still on the menu?
By Dr Glenys Mann (click here to read the blog post)
In this post, Dr Glenys Mann (who is well known to many at CRU) discusses parental choice and the provision of special schools as an option for students with disability. It provides a helpful analysis of the gap between current inclusive education practice and the inclusive schools we seek that would welcome and support all learners – and how we might move forward.
Click here keep up to date with other QUT publications and posts.
---
Queensland Collective for Inclusive Education – Call to Action : QLD Election
---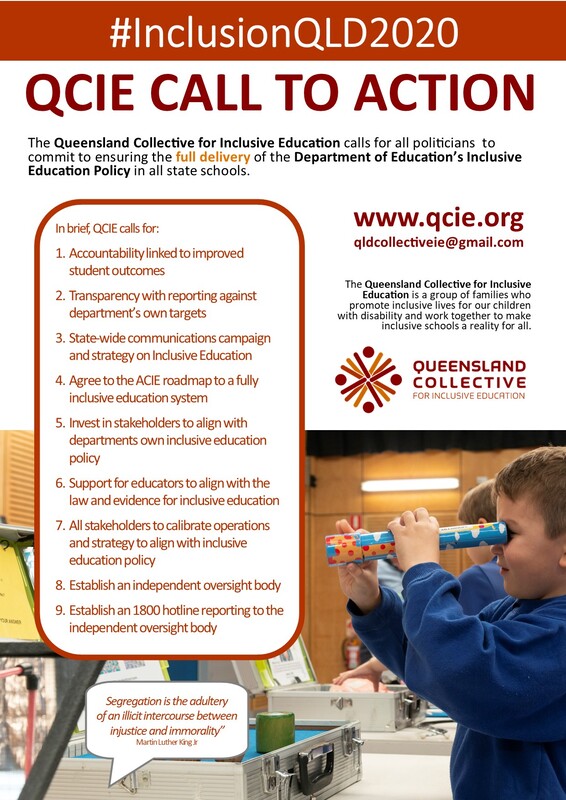 2020 is also an election year for us Queenslanders!  The Queensland Collective for Inclusive Education (links to their website) or QCIE consists of families who promote inclusive lives for their children with disability and who work together to make inclusive schools a reality for all.
Ahead of the state election, QCIE has released their Call to Action.
The key message of the Call to Action is for all Queensland politicians to commit to ensuring the full delivery of the Department of Education's Inclusive Education Policy (links to the PDF policy) in all State Schools.
You may be interested in learning more about QCIE's Call to Action or joining in their lobbying efforts prior to Queensland's October state election. 
---
Inclusive Education Cafes
---
The School Inclusion Network for Educators (SINE) team have been very busy this year providing online  Inclusive Education Cafe sessions.
Recent topics for the sessions have focused on Inclusive Curriculum Provision with titles such as:
Age Equivalent Curriculum Clarity
Quality Differentiated Teaching Practice + Supplementary Adjustments
Substantial + Extensive Curriculum Adjustments.
Although these sessions are designed for educators, the information shared is presented in an accessible fashion. If you are interested in how curriculum inclusion is possible the Inclusive Education Cafe recorded sessions are available to all on the School Inclusion website.  Thank you to Loren Swancutt and the SINE team for their work and for making these recordings available.
---
Disability Standards for Education – Review
---
The Disability Standards for Education or The Standards were developed under the Disability Discrimination Act 1992, and they apply to government and non-government providers in all education sectors, including pre-school, school, vocational education and training, higher education and adult and community education. They currently do not apply to child care.
The Standards for Education were developed to ensure students with disability in Australia are provided with opportunities to realise their potential and can participate in education and training on the same basis as other students.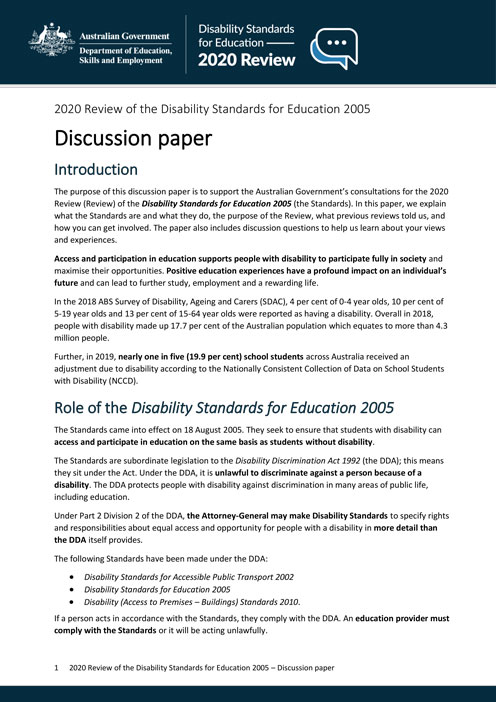 The Standards are reviewed every five years in line with legislative requirements to ensure they remain effective in achieving their objectives.   This 2020 review is asking whether The Standards have been doing their job and, if not, how they can be improved.  You can read the discussion paper here.
Students with disability, their families, carers, advocates and educators were invited to provide their experiences of education in Australia in relation to The Standards between July and September this year.
The feedback period has now closed, but feedback provided as a result of the consultation process will inform the advice provided to Government.  A review report (capturing feedback from a variety of sources along with recommendations) will be handed to the Federal Minister of Education in December 2020, with a final report presented to all governments for their consideration in early 2021.   If you are not familiar with the standards, you may find it helpful in your advocacy to be aware of the obligations of education providers set out in the standards.
---
We hope this newsletter has helped you feel up-to-date with current happenings relating to inclusive education.
Please remember that CRU's new resources pages feature many helpful tips and tools for you and your family member.
Warm regards,
The FFIE team