Newsletter five:
Collaboration and Advocacy
We are pleased to announce that CRU's Families for Inclusive Education Project has been extended for another twelve months. We will announce upcoming activities over the coming months.
In this newsletter, we would like to highlight just a few of the resources available on our recently launched Working Collaboratively and Barriers, Rights and Advocacy pages, the last pages in the Families for Inclusive Education (FFIE) online resource collection. The articles, links and videos on these pages have been selected to support parents and families of children with disability in their role of working with schools as they pursue an inclusive education for their children.
A high quality inclusive education is usually achieved by a commitment to working collaboratively with the school, but also, at times, through determined advocacy to protect a child's right to an inclusive education. Many parent advocates would say that they aim to seamlessly blend advocacy and collaboration skills in order to work with schools for the best outcomes for their children in a non-aggressive way, but with clarity and high expectations of what's possible.
We encourage you to explore the resources you will find in these sections.
Working Collaboratively:
Barriers, rights and advocacy:
---
Communicating and Building Partnerships with School
---
Family Advocacy NSW released a booklet titled '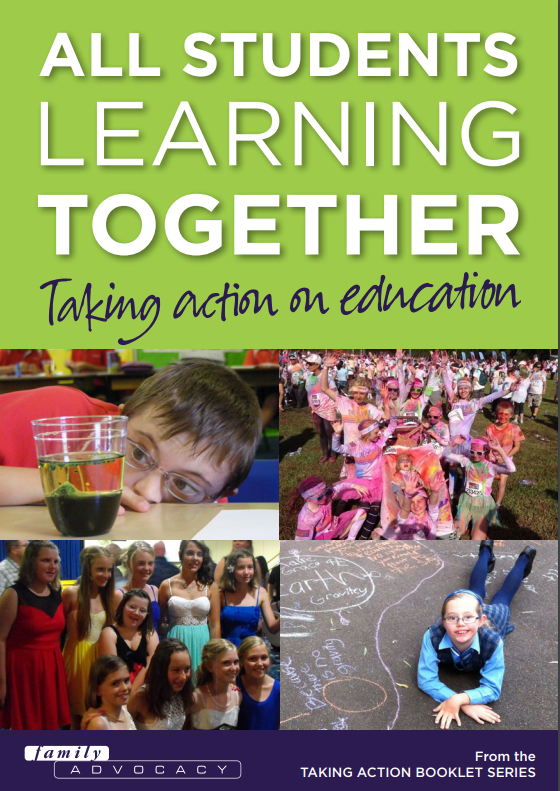 All Students Learning Together' in 2017. It is full of family stories by parents who wanted to share their tips and examples from including their children with disability in a regular class, at a mainstream school.
This booklet assists parents to think about the part school plays in the whole life of a child, and helps with planning how to communicate the importance of inclusive education to prospective and current schools. It also supports parents to think about their role in partnering with school for their child's inclusion, and provides ideas for building this relationship.
---
Setting Goals and Planning
---
Many parents find the various acronyms of plans, and the purpose of such plans, confusing: IEPs, ICPs, ILPs…
CRU has developed a new factsheet to assist parents with understanding the purpose of the various Individual Plans: 'Individual Plans Explained'.
---
Becoming a Better Advocate: Learning from other Advocates
---
Local QLD parent advocates speak about why they chose inclusion for their children with disability, in the new video by CRU 'Why Inclusion?'
These parents also share what they have learned from their mistakes and successes in advocating for an inclusive education for their children, in the hope that other parents will be able to learn and strengthen their own advocacy. This is another new video by CRU, titled 'Advocacy Learnings'.
Along with stories from QLD advocates, you will also find articles and videos by advocates from interstate, and internationally. 'We All Belong' is a beautiful video by families in a US based family advocacy group. It includes gems for preparing for an IEP meeting with advice such as: "Never write a goal that a dead person can meet!"
---
Guides to Advocacy
---
CRU is delighted to announce a revised edition of the well-renowned 'I Choose Inclusion', published by QPPD in 2011, that inspired many parents and families around Queensland to, indeed, choose inclusion for their children.  The new edition includes updates to reflect current policy and legislation.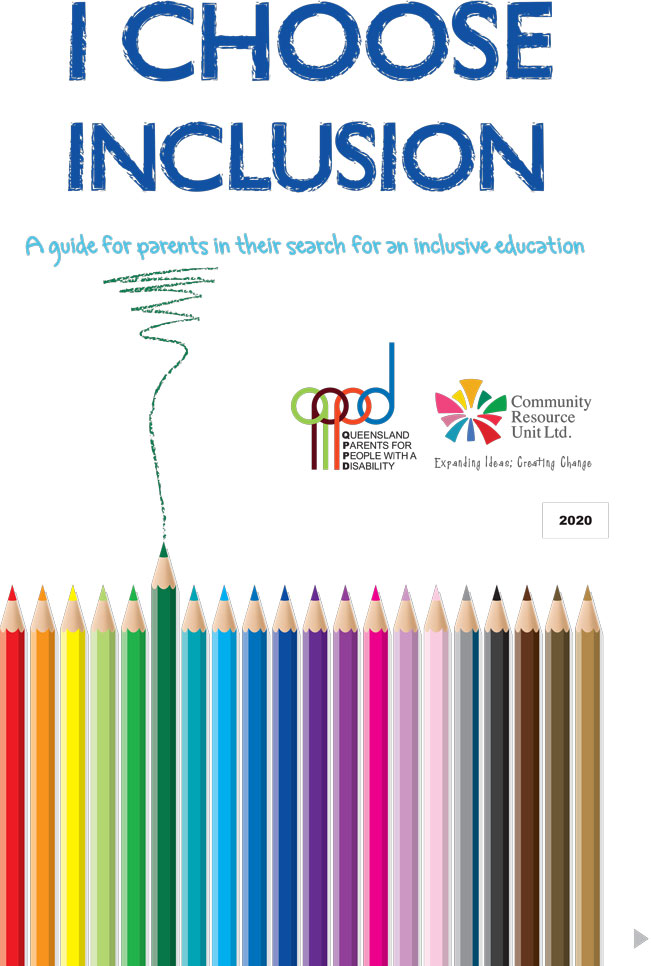 We would also like to remind families of 2 factsheets CRU released in 2018:
We would love you to share these resources amongst your networks, and if you have any feedback, we would love to hear from you!
Lisa Bridle and CRU's Families for Inclusive Education Team