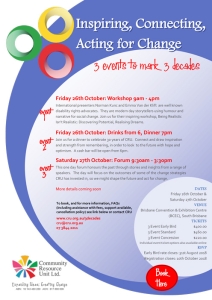 Please come and join us in celebrating 30 years of CRU.
Click the image above to find out more!
As well as exploring key ideas about what makes a good life, this website offers strategies to create and sustain this for a person with disability.  It has been created as a resource for people with disability and their supporters, both paid and unpaid.
We have gathered some great content that already exists on this topic and created some new resources that highlight key ideas and share the wisdom of others.  We trust that this means there will be a mix of familiar concepts, old favourites and new resources that will be of interest to the broad and diverse CRU community.