Newsletter four:
Friendships and Belonging
This is our fourth newsletter for the Families for Inclusive Education project. We wanted to highlight the links and resources on the topic of Friendships and Belonging.  The articles, links and videos on this page have been selected to not only encourage families to find the courage to pursue friendships for their family member, but to also show the broader benefits and opportunities that relationships bring to a person's life.
The impact COVID-19 has recently had on relationships has made it clear just how important friendships and relationships are to us all.  Friends are the ones who look out for us in times of difficulty and they are the ones who bring us up when we are feeling down.
Now, more than ever it seems like a good time to make a little more effort to get to know our neighbours better and to keep in regular contact with family and friends. In particular, for students – they have missed seeing their friends at school, and for some it will take time to reconnect as they might not be back at school just yet due to ongoing health concerns.
We are very excited to let you know that the Friendships and Belonging page on the CRU website is live – and this is one of our biggest pages yet! There is really a lot of great resources and links to explore on the following topics:
---
Strategies for encouraging friendships
---
Students with disabilities can and do make deep friendships with fellow students, but often building friendship and belonging takes intentional planning by educators and families, as well as making sure 'old ideas' or practices do not get in the way. CRU is excited to announce the launch of a new short film about a family who are trying out some new ways of making space for natural friendships to develop for their daughter.
Talking with friend's - Claire's PODD Squad
Claire's mother Hannah shares her intentional strategy of how a fun and informal group of friends can grow and learn together through shared use of technology.
Factsheet:  Building Friendships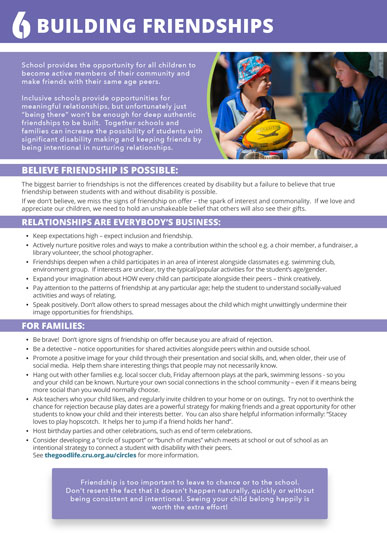 Click here to download the fact sheet (PDF)
---
Valued Roles
---
Acceptance and belonging: the helpfulness of being in valued roles
Being a valued and contributing member of the school community is important for every student. The range of opportunities that come from being involved in the full life of a school is open-ended, however it does take time to think about which positive roles will enhance belonging for students with a disability in their school community.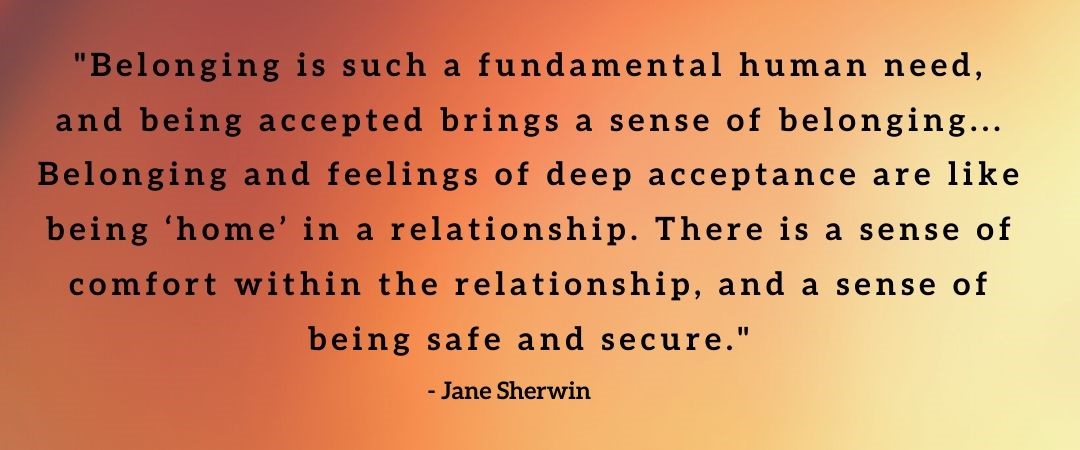 Read more about the importance of holding positive roles in Jane Sherwin 's article: Acceptance and belonging: the helpfulness of being in valued roles (Click here to read the article). Opens in new window
In the Pool, on the stage and at the Concert
In March 2020, Paula Kluth presented at the Illume Inclusive Schooling Conference in Brisbane and spoke about the importance of students with a disability being involved in the full life of the school community.
In this article, In the Pool, on the stage and at the Concert (Click here to read the article) Opens in new window), she explores some of the ways to encourage full participation of students in the extra-curricular activities of a school.
---
Supports Around 'Behaviour'
---
In this section we have been quite particular about the types of resources we wanted to share. The links here are designed to help re-frame the discussion about solving or fixing students with so called "disruptive" behaviours.  These topics help to shift the conversation to other considerations to be able to support a student well so that they can succeed alongside their peers.
Exploring Accommodations
In the conference paper Exploring Accommodations: Some Things to Consider When Supporting People with Learning, Sensory and Movement Differences (click here to download the PDF), Anne Donnellan and Martha Leary outline explore the idea of accommodations and offer a range of things to consider when teaching new tasks.  This paper was created for the 2005 CRU Conference, "The Challenge of Inclusion: People labelled with "Challenging Behaviour" and the Struggle to Belong",
Broadreach Training
Broadreach Training, the online training resource founded by Norman Kunc and Emma Van der Klift generously gave CRU permission to include some of their resources.  Below is the video, Rethinking Behavioural Therapy, which features Lydia Brown.
---
Building Emotional Wellbeing
---
Emotional well-being is something that is often undervalued in people with disability by the wider community.  However, to be human is to feel, and while expression of emotional need will always be limited by a person's communication skills, the emotion is no less real for the person.
Children with disability, especially those with limited effective ways of communicating, need those in the school community around them to be intentional in looking for signs/communications of emotional need, and to ensure emotional needs are recognised and met.
Norman Kunc writes:
"I believe that the majority of educators would agree that it is tremendously important for a child to develop a sense of self-worth and confidence.

However, in our society, especially in the field of education, it has been assumed that a child's sense of self-worth can be developed from a sense of personal achievement that is independent of the child's sense of belonging. If we concur with Maslow, however, we see that self-worth can arise only when an individual is grounded in community."
This is an excerpt from Norman's article The Need to Belong: Rediscovering Maslow's Hierarchy of Needs (Click here to read the article). Opens in new window
We hope these resources will help both families and educators and would love you to share amongst your networks where you can. Please send us some feedback about any of these resources, as we would love to know what you thought about them.
Lisa Bridle and the Families for Inclusive Education Team