History of CRU
The origins of CRU lie in an initiative of the parent advocacy organisation, Queensland Parents of People with a Disability (QPPD). In its role as a catalyst for improving services for people with disabilities and their families, QPPD, in alliance with some committed professionals, organised the Search Workshop.
Held in October 1987, this gathering of 90 people involved people with disability, parents, service providers and government representatives from all over Queensland, coming together to develop a shared vision for Queensland.
One of the initiatives to come from this three-day gathering was a task force which developed a strategy for supporting, informing and providing training opportunities for people with disabilities, their families, workers and organisations. CRU is a result of that work. Initially sponsored by QPPD, CRU subsequently became incorporated in October 1988.
CRU adopted a theory of change, which emphasized a change of heart as well as changes to the structures that limit and oppress people with disabilities.

Anne Cross and Margaret Ward.
Click here to read Community Resource Unit: A Decade of Investment in Values, Vision and Grassroots Development (PDF). Written by Margaret Ward and Anne Cross. From the CRU publication Gathering the Wisdom which is no longer in print.
CRUcial Times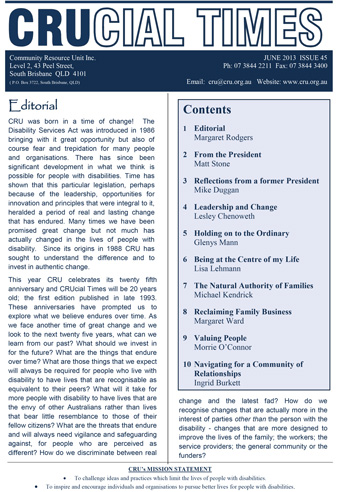 Since its first edition was published in 1994, CRUcial Times has provided a platform for local, national and international writers to explore a variety of themes around authentic inclusion for people with disability and what genuine change needs to happen for this to occur.
The intention of CRUcial Times is to share the wisdom of stories, ideas and strategies and to speak from the truth of the person who is writing the article.  We have found this truth has a relevance that transcends time and place and as such is not dependent on a specific person, organisation or funding stream.
CRUcial Times also holds some important history of CRU and the many people who have contributed to our work over the years.
Two editions of note are:
CRUcial Times 45,  June 2013.  What endures, therefore what should be invested in

In honour of our 25th anniversary, this collection of previously published articles describing key strategies supporting change was republished.

CRUcial Times 46, February 2014.  What is needed for a change from the heart

In late 2013 CRU held a forum to celebrate its 25th anniversary.  The articles in this edition came from the presentations at that event.
Contributors to the work of CRU
We often talk as though CRU is the small group of people, employed in an office in Brisbane.  That resource has been an important cog in the wheel and over the years has played an important role in stimulating change.  However CRU is more than the staff and board members and our ambitious vision for change won't be achieved by that little group alone.
The work of CRU has been built and strengthened by people who have shared their ideas, insights and learnings through presenting, writing, telling their story at a CRU event or sharing a conversation over a cup of tea.
Click the image below to open a gallery of the people who have contributed to CRU and its work over the decades.
Search Celebration Dinner
In October 2012 CRU hosted a dinner for 150 people at the Novotel Hotel to celebrate the 25th Anniversary of the Search Conference. We wanted to remember our history and to celebrate the importance of visionary leadership, people power, dreaming big, collaboration over time and staying faithful to a vision.
Speeches from the dinner: (Click on a link below to download a PDF)