These books have arrived and are in our Book store!
Books will be avilable as individual volumes 1, 2 or 3, or as the complete Set of 3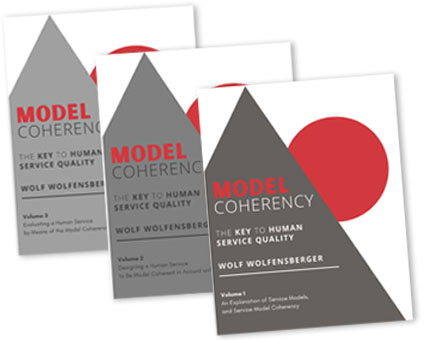 Volume 1 – An Explanation of Service Models, and Service Model Coherency
Volume 2 – Designing a Human Service to Be Model Coherent in Accord with SRV
Volume 3 – Evaluation a Human Service by Means of the Model Coherency Rating Tool
Wolf Wolfensberger, PhD (1934-2011) was a long-time professor at the Syracuse University School of Education, where he was on the faculty as a full professor since 1973, and directed an independent training body, the Training Institute for Human Service Planning, Leadership, and Change Agentry. He had been teaching and writing on the topic of this book for several decades but held off attempting to get it published until he was satisfied of its completeness and quality. At his death in early 2011, he had by and large completed the manuscript, but it needed major editing. With the cooperation of the Trust Under Will of Nancy Artz Wolfensberger, we have undertaken the editing, and this book is the result.
Human service is a complicated endeavor, in which a number of component parts must fit together and work in harmony in order to benefit the recipients. The subject of this book, model coherency, is about putting the component parts of a service together properly–coherently. As Wolfensberger puts it, in a nutshell, model coherency answers the question: "Are the right people being served by the right people, in the right setting, using the right tools and methods?"