Dear friends,
Last year, CRU was delighted to offer 20 workshops across Queensland for families of Queensland school students with disability as part of our Families for Inclusive Education Project proudly supported by the Queensland Government, Department of Education.
We are excited to announce our workshops for Terms 1 & 2 2020.
Term One Dates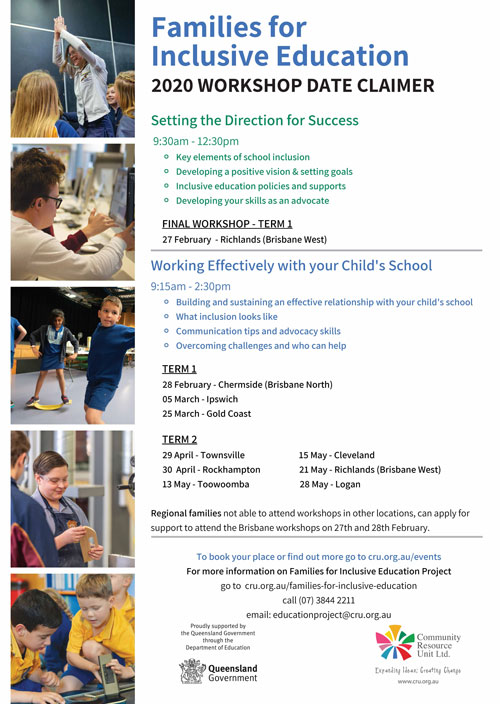 Registrations are open for our term one workshops:
The workshops help families to learn more about inclusive education, including what inclusive education looks like and how it benefits your child, and how, as family member, you can develop a collaborative relationship with your child's school to improve their educational experience.
Supported Attendance for Regional Attendees
For regional families, we want to draw your attention to our final half day version of Setting the Direction for Success (Richlands, Brisbane West) on 27th February, the day before one of our follow up workshops Working Effectively with your Child's School (Chermside, Brisbane North) on 28th February.
We have intentionally scheduled these workshops back to back for those regional families who have not been able to attend our workshops so far.
If CRU is not offering workshops at a location closer to you (ie you don't live in or very close to Townsville, Rockhampton, Toowoomba or SE Qld) and your child is currently attending a Queensland state school, you can apply for support (travel costs e.g. petrol, airfares and accommodation) to attend the workshops on 27th and 28th February by filling in the application form below.
Download the Travel Support Request Form here
We will be able to assist with logistics and transport to the venues. (These supported attendance is also available for all our workshops, e.g. for people in Nth Queensland to travel to Townsville).
Newsletter and resources
We are pleased to share our second newsletter on how to promote and defend a vision of inclusion.  We hope the newsletter resources will strengthen and embolden you as you prepare for another school year.  Some of the messages are around high expectations and your child's right to a quality inclusive education; that your child has gifts and strengths and will be an asset to the school; that you hold a natural authority as their advocate; and encouragement to link with others to stay strong in your advocacy efforts.
In preparation for return to school, you may also want to revisit newsletter one and our webinar!
In addition to the dates/locations on the date claimer, we will also offer an evening session in Brisbane (at the CRU office) on Monday 23rd March with an abridged version of Setting the Direction for Success.  More information will be available soon but if you want to receive a reminder about this session, please email educationproject@cru.org.au.
As well, our second webinar will be held early in Term 2 on the topic of Communication with School – Building a Foundation for Partnerships.
We very much look forward to connecting with families in the school years in 2020 and remember we are available for individual consultations.   We hope this coming school year will be a wonderful year of fun, friendship and learning for your child.
If you are not the parent of a school aged child, please spread the word or check out our other events.