Leading change
Resourcing and developing leadership is an essential aspect of supporting and developing a movement for change.
Since the early 1990s, CRU has worked very deliberately to recognise, support, develop, mentor and connect leaders in the sector and leadership development continues to be one of our strategic goals. As an agency we aim to both demonstrate leadership in what we do and to intentionally grow and develop leaders to lead the change that is needed.
We know that there are many people with disabilities, family members, and workers in different roles and different types of organisations demonstrating leadership across our State. CRU recognises the need for development and networking opportunities for all people demonstrating leadership – not just those in formal leadership roles as there are many "ways" to lead and many paths to leadership.
Leadership often arises because a person with disability, family, paid workers or ordinary citizens see a need or steps up because they have a vision of something better.
The image for me is a guide rail that help one make a steep assent. I only hold it when and where I need it, but without it one cannot make the assent.

Feedback from a CRU stakeholder survey, 2019
CRU recognises that while there are many passionate and effective leaders in formal roles, we don't need to wait for them or leave it all to them.
By investing in leadership development, CRU aims to grow and develop the pool of leaders and fortify people involved in a movement for change by highlighting the many forms that leadership can take and what can be done to support, inspire and develop it further.
Leadership is not a magnetic personality, that can just as well be a glib tongue.

It is not "making friends and influencing people", that is flattery.

Leadership is lifting a person's vision to higher sights, the raising of a person's performance to a higher standard, the building of a personality beyond its normal limitations.

Peter Drucker
---
Related Resources – Leadership
Family Leadership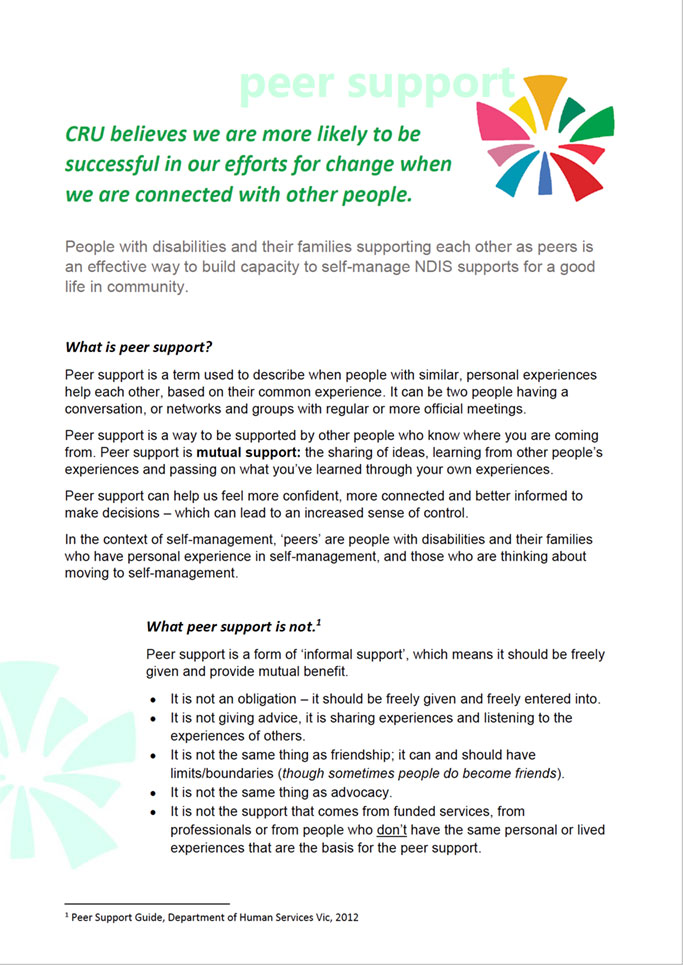 Families have shown leadership both at the level of achieving a good and meaningful life for their family member, and also through advocating for social change and influencing systems change, creating new services, and influencing community attitudes.
CRU recognises, however, that formal learning opportunities and better networks can help make those change efforts even more powerful.  Structured leadership development activities can help families develop skills and support structures.
The purpose of CRU's work on family leadership is to strengthen families for the long haul of leadership and change. By developing a movement of likeminded people, these leaders can support each other in these change efforts, both on a personal level and on broader issues that face their family members and the broader community.
And I realise that holding on to an ordinary life is not my real challenge.

My greatest test will always be to let go of the special.

In knowing this, I reject the messages the world tries to give me and once again hold on to the promise of who he is – a boy, my son.

No more, no less.

Glennys Mann, CRUcial Times 29
---
Related Resources – Family Leadership