Self Management – Confident, Connected & In Control: Toowoomba
March 25 @ 9:00 am

-

3:00 pm

A$35.00 - A$60.00
Self Management – Confident, Connected and in Control, Toowoomba
CRU has funding from the NDIA to provide individual capacity building activities as part of the ILC program. Between October 2019 and May 2020 CRU will deliver workshops in six locations on self-management. People say it can be all too hard – but find out what's actually involved and what the benefits are.
About the Workshops:
Self-managing doesn't have to mean doing everything on your own.
Come to one or both of these short workshops to share creative ideas, develop the confidence to self-manage well, and connect with other people on the same journey.
WORKSHOP 1: Starting to Self-Manage with Confidence
9.00AM – 11:30AM
Are you just starting out with self-managing your NDIS plan, or wondering if self-management is for you? Join us for a short workshop that will de-mystify self-management, examine the benefits and challenges and give you some steps to help you to get started.
WORKSHOP 2: Self-Managing for the Life You Want 
12:30PM – 3:00PM
Self-management really means taking control: of your life, your supports, and often a team! This short, interactive workshop is about how to self-manage well: by being clear about your vision for the life you want, finding the right people for the job, and building a team of paid and unpaid supporters.
"Until we did this ourselves, money was spent on things I wasn't interested in and that is a waste.
I used to feel like a square peg in a round hole; now I'm making the hole just my shape."
David Goldsmith CRUcial Times 43, 2012
Download Flyer (PDF)
Download Accessible Flyer (Word)
Who Should Attend?
This workshop is for people with disabilities and their families who are self-managing their NDIS supports, or who are interested in moving to partly or fully self-managing.Related Workshop on Self-Direction
Refreshments will be provided. If you attend the morning session, you may like to stay and share a light lunch, or if you are attending the afternoon session, you are welcome to join us for a light lunch before the afternoon session begins. Please ensure your registration includes any specific dietary requirements you may have.
About CRU:
Community Resource Unit has a 30-year track record of working across Queensland to help people with disability take control of their lives and take their place in their community.
This event is funded by the National Disability Insurance Agency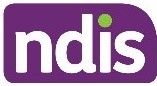 Cancellations:
To view CRU's cancellation policy, visit: http://cru.org.au/about/policies/#cancellation