Real Stories of the NDIS – New Opportunities For a Good Life
June 3, 2017 @ 9:30 am

-

3:30 pm
Community Resource Unit is hosting a one day forum that showcases stories by and about people with disabilities and their families who are using the NDIS.
Presenters from Queensland and other states will share their experience of using the scheme.
The National Disability Insurance Scheme (NDIS) is a new way of supporting people with a disability in Australia. The scheme will start to roll out in the Brisbane region from 1st July 2018.
Presenters will talk about their experience of:
preparing for a planning conversation with the NDIS

creating a vision and planning for a good life

the Early Childhood Early Intervention pathway

self-managing

seeking and keeping employment
Morning tea and lunch will be provided.
Download Flyer (PDF)
Download accessible flyer here (Word)
Who should attend?
This forum is for people with a disability, family members,close friends, allies and people in paid support roles.

Our presenters
Three different presenters from Townsville and Canberra will bring their own perspective to share on their experience of the NDIS. They will share the highs and lows of the experiences but most importantly some of the things you can do now to be prepared in this time of change.
Peter Gurr (Townsville)
A
boilermaker by trade and a licenced building contractor, Peter operated his own business in the building industry until 4 years ago when his son took over. He was diagnosed with multiple sclerosis six years ago. Peter has extensive business knowledge, and a passion for helping other people with disabilities and learning more about himself. He is an active QDN member taking on roles including Regional Facilitator, of the Townsville Local Support Group, and peer facilitator for QDN's Ready to Go project. Peter has been married to Joy for close to 30 years, and they have two children, Emma and Lachlan.
Jan Kruger (Canberra)
Jan and her husband have four children, their youngest Jack is a Jujitsu student, soccer player, down hill skier, year 9 student and happens to have an intellectual impairment. Jan's family is guided by their clear vision for Jack to live a full life as a socially valued and known member in his local community. Jack has been using NDIS funding to complement his freely given supports since June 2015. Jan is the Director of Imagine More, a family led organisation based in Canberra that Jan co-founded in 2013 to strengthen family leadership and advocacy for people with a disability to get the good things of life.
Additional speaker to be announced soon!
Assistance to attend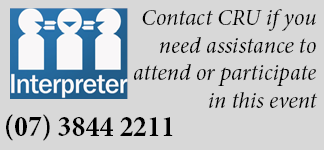 It is important to CRU that we make our events accessible to all attendees.  We ask that you let us know if there is anything we can do to assist you to fully participate in this event.
This may range from support for people with visual and hearing impairments, physical support needs, English as a second language and particular dietary requirements. You can provide this information at the bottom of the registration form and if required someone from CRU will contact you for further information.
Contact CRU is you need assistance or attend or participate in this event and  you can't register online, by calling 07 3844 2211.
Community Resource Unit Inc.
CRU has a 29 year track record of working across Queensland to help people with a disability take control of their lives and take their place in their community.  
Funding

This is an NDIS Participant Readiness activity funded by the Department of Communities, Child Safety and Disability Services.
The cost of attending this event is covered by this funding.  There are no charges for attendees.
Related Events