Making the Most of the NDIS: Wynnum
August 18, 2016 @ 9:00 am

-

August 19, 2016 @ 3:00 pm
The National Disability Insurance Scheme (NDIS) is a new way of supporting people with a disability that is starting soon in Queensland.
This is a series of short workshops that provide information about the NDIS and help people to think about how they can best use the opportunities offered by the new scheme.
You can register for one, some or all of the workshops in the series. People who have attended a Taking Charge of Change workshop are welcome to attend. Places are limited.
Workshops
Thursday
9:00am – 11:30am The NDIS – Getting Informed
This workshop provides information about the why, when and how of the National Disability Insurance Scheme (NDIS) in Queensland, and things you can do now to get ready.
12:30pm – 3:00pm The NDIS – Starting to Plan
This workshop follows on from the Getting Informed session and will help you to get ready for the NDIS by thinking about the life you want and the goals and aspirations that are important to you. What will a good life look like for you?
Friday
9:00am – 11:30am  The NDIS – Understanding Supports – new for 2016
People who have attended a Getting Informed session or Taking Charge of Change workshop can start to explore the funded supports that might complement and strengthen the informal, community and mainstream supports that help create and sustain a good life. How can you blend funded NDIS support with natural supports that come from family, friends and community?
12:30pm – 3:00pm The NDIS – Managing Your Supports – new for 2016
People who have attended a Getting Informed session or Taking Charge of Change workshop can draw on experience and wisdom from Queensland to assist them in looking at ways they can both manage and direct the support they need to sustain a good life. How can you use the NDIS to have more choice and control?
A light lunch will be provided for people who register for both sessions on the same day.
This workshop is for people with a disability, families and their close friends who are interested in hearing about the NDIS and exploring what they can do to be ready for the challenges and opportunities that lie ahead. 
Our presenters
One of our team of experienced presenters will deliver this workshop.  You can see the full list of our presenters here.
Each member of our team has many years of experience working with people with a disability and their families.  Some of our team also have family members who have a disability and will share from personal experience.
Assistance to attend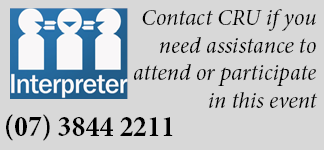 It is important to CRU that we make our events accessible to all attendees.  We ask that you let us know if there is anything we can do to assist you to fully participate in this event.
This may range from support for people with visual and hearing impairments, physical support needs, English as a second language and particular dietary requirements. You can provide this information at the bottom of the registration form and if required someone from CRU will contact you for further information.
Contact CRU if you need assistance to attend or participate in this event and you can't register online, by calling CRU on 07 3844 2211.
Community Resource Unit Inc.
CRU has a 28 year track record of working across Queensland to help people with a disability take control of their lives and take their place in their community.  
Funding

This is an NDIS Participant Readiness activity funded by the Department of Communities, Child Safety and Disability Services.
The cost of attending this event is covered by this funding.  There are no charges for attendees.
Related Events