In March 2020, due to Coronavirus we have had to cancel our scheduled face to face events.
CRU remains open and we will advertise some alternatives as soon as possible.
Inclusive Education: Making a Good Start – Planning and Partnerships to Support your Child's Inclusion
There are 2 sessions to choose from to attend this event.
Please choose one session – daytime or evening, when booking tickets
About the workshop:
Every parent wants their child's school years to be happy and successful – for school to be a place where their child learns, has friends, participates and belongs.
As the 2019 school year starts, it is timely for parents to consider what they can do to develop an effective partnership with their child's school and plan for a successful year at school.
The presentation will include a mix of family stories and practical tips, and direct families to valuable resources. There will be opportunities for questions and discussion.
Topics covered:
Developing and sharing your family vision
Tips for setting up the school year well
Knowing what to ask for – understanding key elements of an inclusive classroom and school
Understanding key policies, frameworks and school processes.
The role of parents in building and maintaining an inclusive school culture
Tips for building effective partnerships with the school
About the Presenters:
Lisa Bridle works at CRU as Senior Consultant in Leadership Development. She will be joined by some experienced parents from the Queensland Collective for Inclusive Education who will contribute stories and tips from their own experience of supporting their child's inclusive education.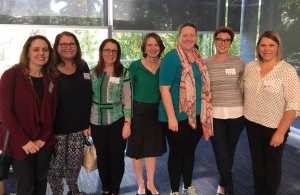 Who should attend?
These discussion sessions (choose a morning or evening timeslot) are open to all parents seeking an inclusive education for their child. There will be tips and examples relevant to early school years, upper primary and high school.
Families not yet in school but wanting to learn about inclusive education are very welcome.
Details:
Participants can register for either event – day or evening, however bookings are essential.
Session 1 will be held at The Autism Hub and Reading Centre, 141 Merton Road, Woolloongabba. 9.30am – 12noon
OR
Session 2 will be held at the CRU Office, Level 2, 43 Peel Street South Brisbane 6.15-8.45pm
Ticket price is $20, however some reduced fees may be available. Contact CRU for more information.
Download the Flyer (pdf)
Download the Accessible Flyer (word doc)
USING YOUR NDIS FUNDING AT CRU
For self-managing and plan-managed NDIS participants, please contact CRU if you would like more information on how this discussion could help your child achieve their goals.
Community Resource Unit Ltd.
CRU has a 30 year track record of working across Queensland to help people with a disability take control of their lives and take their place in their community
Contact CRU if you need assistance or are unable to register online, by calling (07) 3844 2211 or email us at cru@cru.org.au