Finding My Place: Toowoomba
October 10, 2015 @ 9:30 am

-

4:00 pm
Overview
This one day forum shares stories by and about people with disabilities who have taken their place in their community.
People share their experience of moving into their own homes; having jobs; following their passions and contributing to their community.
The forum continues on from recent "Taking Charge of Change: What do we need to be ready for the NDIS?" workshops. Participants will be inspired and encouraged to think about what is possible in the context of self-direction and the NDIS.
The presenters who live with disability and the people who support them will share their thinking and down to earth strategies they have used to get started and keep going. There will be speakers from the local area and further afield.
Themes covered will include:
Living in a home of one's own

Self-direction & self-management

Building natural supports 

Contributing to community 

Employment

Working it out one person at a time
A light lunch will be provided.
Download Flyer (PDF)
Download Flyer (Word)
 Who should attend?
This workshop is for people with a disability, families, friends, allies and people in paid support roles who are interested in exploring what might be possible now and when the NDIS starts in Queensland.
Assistance to attend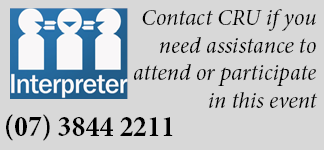 It is important to CRU that we make our events accessible to all attendees.  We ask that you let us know if there is anything we can do to assist you to fully participate in this event.
This may range from support for people with: visual and hearing impairments, physical support needs, English as a second language and particular dietary requirements. You can provide this information at the bottom of the application form and if required someone from CRU will contact you for further information.
Contact CRU if you need to assistance attend or participate in this event and you can't register online, call 07 3844 2211.
Community Resource Unit Inc.
CRU has a 25 year track record of working across Queensland to help people with a disability take control of their lives and take their place in their community.  
Funding

This is an NDIS Participant Readiness activity funded by the Department of Communities, Child Safety and Disability Services.
The cost of attending this event is covered by this funding.  There are no charges for attendees.
Related Events