Confident, Connected & In Control: Self-Managing for the Life You Want. Online workshop
August 6 @ 9:30 am

-

12:00 pm
Self-Management: Confident, Connected & In Control
CRU has funding from the NDIA to provide individual capacity building activities as part of the ILC program. Due to restrictions on events due to COVID-19, we are offering some workshops online.
People say self-management can be all too hard – but join us for a discussion about what's actually involved and what the benefits are.
About the online workshop: Self-Managing for the Life You Want
Self-managing doesn't have to mean doing everything on your own.
Self-Management really means taking control: of your life, your supports, and often a team! This interactive 2.5 hour online workshop is about how to self-manage well: by being clear about your vision for the life you want, finding the right people for the job, and building a team of paid and unpaid supporters.
Places will be limited as this will be an interactive session with plenty of opportunities to ask questions and talk to other people. It will not be recorded.
Related Workshop on Self-Management: CRU also offers a related workshop Starting to Self-Manage with Confidence. It will be held online one week prior on Thursday 30th July. You can find more information and register for that workshop here.
Come to one or both of these online workshops to share creative ideas, develop the confidence to self-manage well, and connect with other people on the same journey.
Who Should Attend?
This online workshop is for people with disabilities and their families who are self-managing their NDIS supports, or who are interested in moving to partly or fully self-managing.
What do I need to participate?
Using online platforms to hold events is still fairly new to CRU. We will be using the video meeting platform Zoom. This will be an interactive session with opportunities to ask questions and talk to other people, so to participate you will need:
a computer or iPad with internet access;
speakers/sound and a microphone (a lot of speakers and headphones have microphones built in, like iPhones and Bluetooth speakers);
ideally a webcam (built in to iPads and a lot of laptops). This way you will be able to fully participate, ask questions and talk to other participants.
Please contact us if you have any questions or concerns about your ability to participate. 
About CRU:
For over 30 years, Community Resource Unit has been working across Queensland to help people with disability take control of their lives and take their place in their community.
This event is subsidised by the National Disability Insurance Agency through an Information, Linkages and Capacity Building (ILC) grant.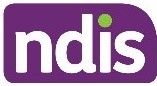 Cancellations:
To view CRU's cancellation policy, visit: http://cru.org.au/about/policies/#cancellation