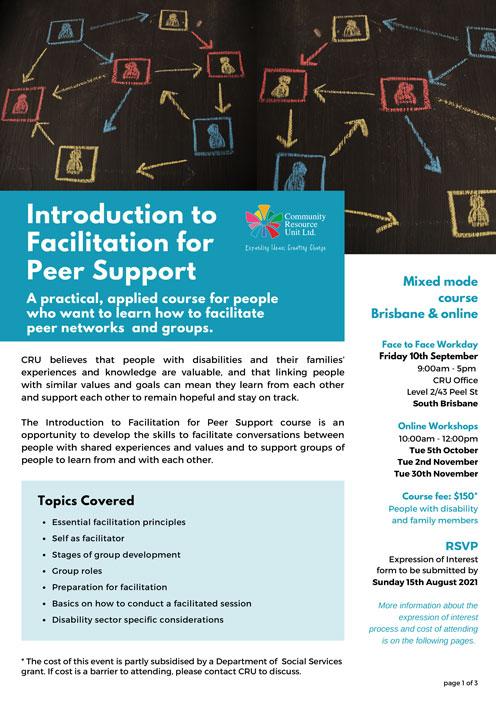 A practical, applied course for people who want to learn how to facilitate peer networks and groups.
CRU believes that people with disabilities and their families' experiences and knowledge are valuable, and that linking people with similar values and goals can mean they learn from each other and support each other to remain hopeful and stay on track.
The Introduction to Facilitation for Peer Support course is an opportunity to develop the skills to facilitate conversations between people with shared experiences and values and to support groups of people to learn from and with each other.  It is offered to support the development of peer networks that benefit people with disability.
Download the accessible flyer (word)
Download the Expression of Interest form (word)
Topics Covered:
Essential facilitation principles
Self as facilitator
Stages of group development
Group roles
Preparation for facilitation
Basics on how to conduct a facilitated session
Disability sector specific considerations
Date and Time
Face to face Workday: 9am – 5pm, Friday 10th September, 2021.
Workday held at CRU office Brisbane.
Online workshops will take place from 10AM – 12PM over 3 Tuesdays:

Tueday 5th October;
Tuesday 2nd November;
Tuesday 30th
Cost
The course fee is $150.  The course is for people with disability and family members only, and the cost of this event is partly subsidised by a Department of Social Services grant. If cost is a barrier to attending, please contact CRU to discuss.
Due to the significant investment this course represents, there is an Expression of Interest process.  Please complete the Expression of Interest Form and email it to cru@cru.org.au .