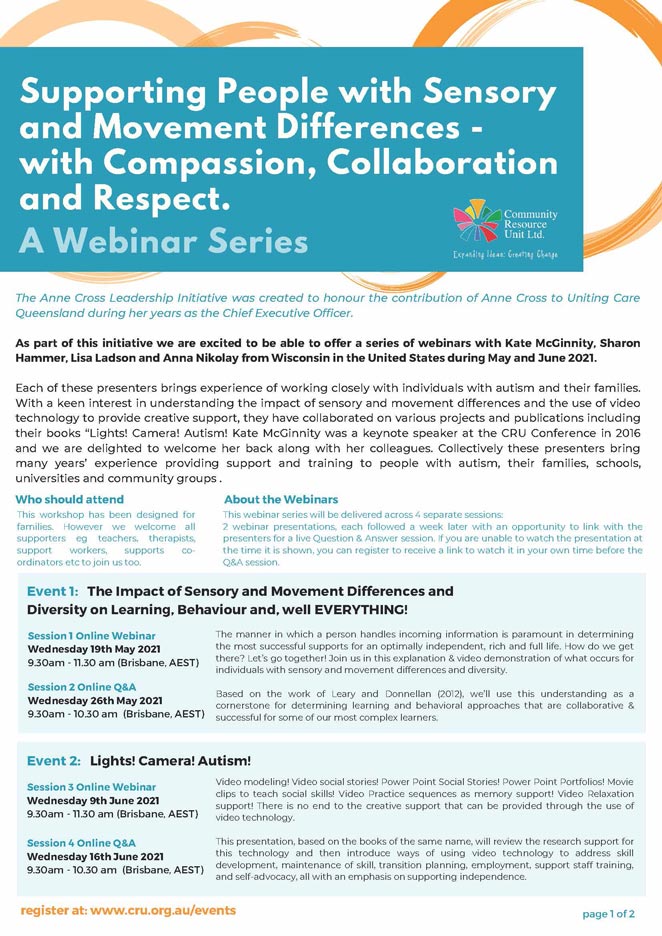 CRU is very proud to be hosting the upcoming webinar series: Supporting People with Sensory and Movement Differences – with Compassion, Collaboration and Respect.
This series of webinars feature Kate McGinnity, Sharon Hammer, Lisa Ladson and Anna Nikolay from Wisconsin in the United States during May and June 2021.
The series will cover the topic of movement and sensory differences and disorder, how that affects people, and how they can best be supported, while the second webinar will address the use of video technology to support people creatively to increase their independence. 
The first webinar
We have extended the registration for the first webinar in the series: The Impact of Sensory and Movement Differences and Diversity on Learning, Behaviour and well, EVERYTHING! until Sunday night – and don't forget if you can't watch on the day,  do register anyway and we will send a link to watch a recording after the event. The live Q&A session is already sold out but you are welcome to put your name on the waiting list.
The second webinar
There was a glitch in the ticketing system for the second event on the 9th June : Lights! Camera! Autism! and more tickets to watch the webinar are now available – apologies if you weren't able to register the first time round.  That Q&A session is also sold out.
We hope you will join us for this informative and helpful webinar series.
The Anne Cross Leadership Initiative
This webinar series is created as part of the Anne Cross Leadership Initiative which was created to honour the contribution of Anne Cross to Uniting Care Queensland during her years as the Chief Executive Officer.